A Guide to SUCCESS with Math
The Interactive Approach to Understanding and Teaching Math
Based on the Orton-Gillingham Approach for Literacy Instruction 
….in a soft cover – coil bound book (8 1/2 x 11)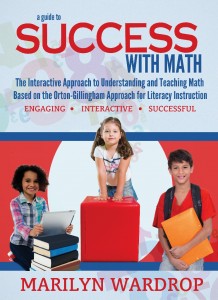 $ 47.50 + 15.00 shipping and handling
( shipping to Continental USA and Canada only)

For a shipping quote to other destinations contact us here.

A Guide to Success with Math on Kindle is at Amazon.com or Amazon.ca 
Math Kits:
The top  tray of blocks contains  nine of each unit bar from 1 to 9, plus 10 ten-bars and one hundred-square is the basic set of the math program.
The Bottom Tray  of blocks has 21 units, three of each unit bar from 1 to 5, plus 30 ten-bars, 4 hundred-squares, and 5 x2's .
Multisensory Math Kit